The Oscars are the biggest event of the awards season, or as movie-lovers know it the biggest night of the year! Ellen returns, for a second time, to host the Academy Awards.  Her opening monologue was filled with jokes about the nominees but none of them quite crossed the proverbial line which was quite impressive (and Jared Leto really is the most beautiful).
The telecast also did a great job of working in the theme of heroes without being obnoxious or too in-your-face about it.  When they first announced the theme I was nervous, but it didn't deter from the actual awards process.
Some of the more interesting events that took place during the awards included: incredibly unnecessary singing from the winners of 20 Feet From Stardom, Zac Efron losing his place on the teleprompter or forgetting how to read, the tribute to The Wizard of Oz by Pink!, and one of the most anticipated performances of the night: Idina Menzel singing "Let It Go" from Frozen!! And while it would have been nice had she not performed with less than 30 minutes left to the broadcast, it was well worth the wait (although you could understandably tell she was nervous, and I'm sure Jorn Tromolto grossly mispronouncing her name didn't help her nerves)
The awards of course ran thirty minutes over the allotted time, but it nonetheless flowed much better than in previous years.  Ellen was a great host, and it would do the awards justice to have her back next year (plus third time's the charm).  Let's just hope that the nominees are as incredible next year as they were this year.
The Night's Winners
Performance by an Actor in a Leading Role went to Jared Leto, for his portrayal of Rayon in Dallas Buyers Club.  This came as no surprise, as he and his amazing ombre have won virtually every award his portrayal in the film has garnered him.    Lupita Nyong'o won the Oscar for Performance by an Actress in a Supporting Role for her role in 12 Years a Slave.  While she didn't necessarily run away with it, had she not won there would have been a large amount of upset, and she truly deserves the award! Cate Blanchett won an Oscar for Performance by an Actress in a Leading Role, and she deserved it! She gave an impeccable speech as well, proving that you can say "suck it" and remain classy. Matthew McConaughey won Performance by an Actor in a Leading Role, which was to be expected based on his performance so far this awards season, but it would have been nice for Leo to leave with a little something, maybe next year.
Frozen won for Best Animated Feature Film of the Year, and in all honesty it was the only choice.  It received more praise than any other film this year and lead box office sales and the Billboard charts for weeks following it's release. "Let It Go" won for Achievement in Music Written for Motion Pictures (Original Song) giving Bobby Lopez an EGOT!
Adapted Screenplay went to John Ridley for 12 Years a Slave, while Original Screenplay went to Spike Jonze for Her.  The consensus was that Her's win was an upset, but it was a great screenplay and deserving of the award.
Gravity garnered awards for Sound Editing, Sound Mixing, Visual Effects, Film Editing, Cinematography, and Directing.  While 12 Years a Slave took home the biggest award of the night, Best Motion Picture of the Year.
Fashion
There were so many amazing fashion choice this year! It was hard to narrow it down to a mere few to post here.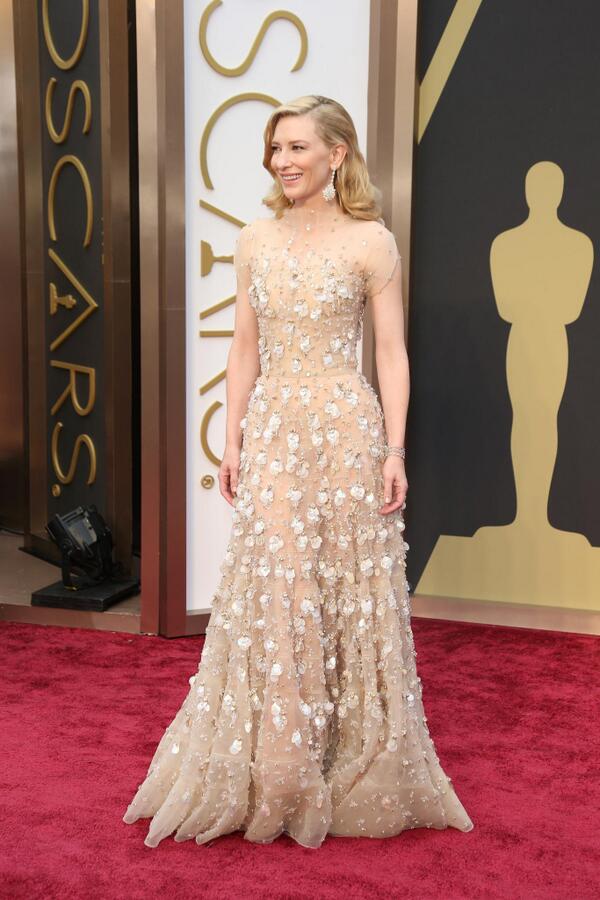 Cate Blanchett looked stunning in a nude embellished Armani Privé.  She complemented the dress with jewels by Chopard. She looked fabulous from head to toe.  The Blue Jasmine star arrived at the awards as one of the night's top contender's and the results of her category did not disappoint.
The 12 Years a Slave star has stunned in various colors all season and the Oscars were no exception.  Lupita Nyong'o shined in a pastel blue by Prada.  This gown gave off a more princess type vibe than some of her other gowns this season, making it a perfect Oscar gown, especially in which to accept an award.
Anna Kendrick looks fabulous in a black J. Mendel.  She looked amazing as she walked the carpet.  The gown was sexy with a strappy back and front slit.
A pregnant Olivia Wilde stunned in a black gown by Valentino.  It should be illegal to be this pregnant and still look that gorgeous! She and husband Jason Sudeikis were adorable together as they walked the carpet.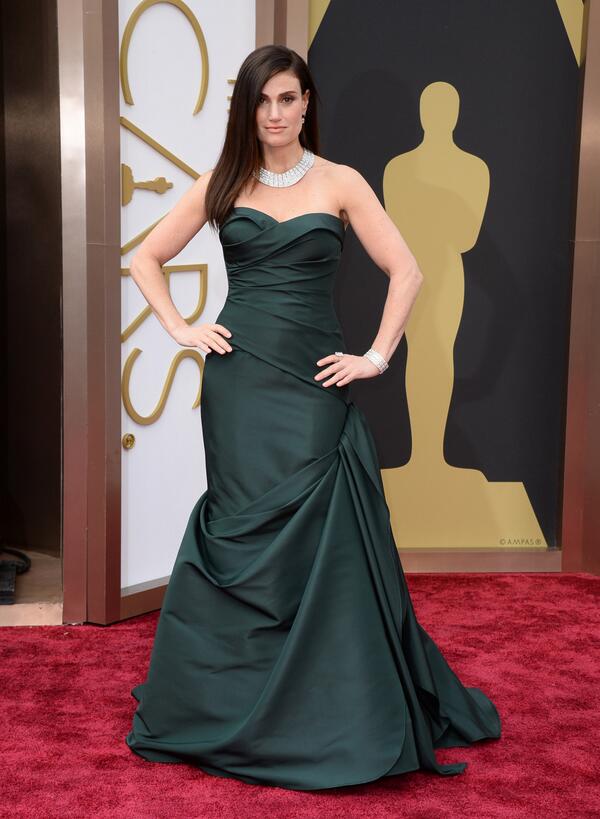 Idina Menzel looked impeccable in an emerald Vera Wang gown.  She was one of the more highly anticipated Oscar guests and her rendition of "Let it Go" was one of the best moments of the night!
Photo Source and Alternate Source