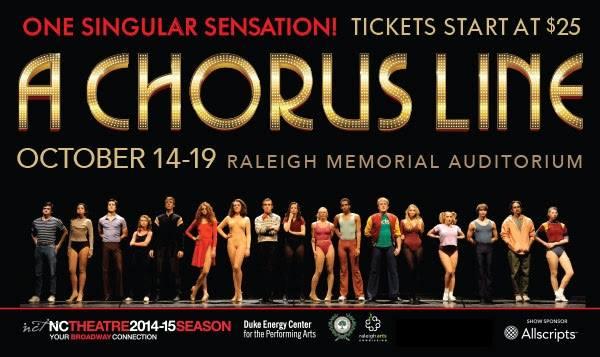 A Chorus Line is kicking off North Carolina Theatre's 2014-15 season in a big way.  North Carolina Theatre is the region's premiere nonprofit professional regional theatre and has been producing professional Broadway revivals for 30 years.  The current season includes some amazing titles beginning with the singular sensation that is A Chorus Line.
A Chorus Linetells the story of 17 dancers who are auditioning to be on the chorus line of an unnamed Broadway show.  The show centers on the dancers' struggles and determination to get the job.   It is based on interviews of real chorus dancers by director and choreographer Michael Bennett.  Bennett transformed the stories he heard from dancers into a groundbreaking musical hit. Each character in the show is based off of the story Bennett heard from a dancer.
The woman who was the inspiration for the character of "Val", Mitiz Hamilton, is the director and choreographer for NC Theatre's production of the Broadway show.  Hamilton also played "Val" on Broadway and in the original London cast, and has directed more than 40 regional productions of A Chorus Line. 
NC Theatre is known for producing quality shows with casts of Broadway caliber talent, and A Chorus Line is no exception.  Every dancer in the show illuminates the struggles and hard work that it takes to be a dancer in the chorus line, while demonstrating the joy that comes from giving everything for your passion. 
Especially captivating is Jessica Lee Goldyn in the role of "Cassie".  Her dancing was fantastic and even when she is in the line your focus easily falls to her.  The dance during "The Music and the Mirror" is long, but Goldyn's movements kept it compelling throughout the entire number. 
Other standouts include Rachel Schur in the role of "Val" which can't be an easy role to undertake when your director is the real-life inspiration for the character.  Schur hits her lines spot on and had the audience rolling during "Dance 10; Look 3".  Hilary Michael Thompson played "Sheila" brilliantly and Alexandra Fassler in the role of "Diana" nailed the 11 o'clock number "What I Did For Love".
The show culminates in a quintessential musical theatre number instead of the usual curtain call.  The final number is one of the best parts of the show and the set lends itself perfectly to making it a superb closing number.
Long story short, Mitzi's still got it! This production is well worth seeing!
The show opened Tuesday night October 14 and runs through the 19th at Duke Energy Center for the Performing arts. Buy tickets HERE.