November 15 & 16, at the Carolina Theatre in downtown Durham, NC, hundreds of fans gathered together to celebrate a universal love of comics, tv shows, movies, and more at NC Comicon!  We were among those hundreds and we loved every minute of our time there!
This year, the featured guests were none other than John Barrowman (
Doctor Who, Arrow, Torchwood
) and his sister, Carole (author, with her brother, of
Bone Quill
, and
Hollow Earth
 among others).  Saturday of the con began with a Q&A with John Barrowman.  He was filming in Vancouver the night before up until the time of his flight and arrived at the convention center just in time to start the session.  Dashing out onto the stage with luggage in tow, he began a hilarious and sincere hour of question and answer with fans.  He answered questions from his favorite color (asked by a 3 year old girl; it's Blue) to his advice for aspiring actors (don't do it unless your serious about it, and be trained in your craft). He didn't uphold his tradition of the pants drop (remember he was fresh off the plane) but he followed through and did the deed at his Sunday session, and upon request we got to hear his Scottish accent.  At the Sunday session we also learned who were the biggest stars they had in their cell phone which led to
John ringing David Tennant
. He's quite an entertainer!
He did a picture session with fans who had purchased tickets and he and Carole did autograph signings multiple times throughout the weekend.  They are both so gracious and great people! At one point during the photo session John whistled to quite down the crowd and asked people to please organize themselves in a better manner to avoid traffic jams in the hallway.  He had a conversation with everyone who came up to get an autograph and it didn't feel as rushed as many convention lines can.
The day consisted of many wonderful panels including how comics are conceptualized and brought to life, artist roundtables, and our personal favorite, a writing workshop with Carole Barrowman.   She gave an excellent 45 minute workshop about how to improve your writing, and it was a privilege to learn from her.  She made some excellent points, the main takeaway of which was to make sure that your writing has energy. She made the workshop interactive and captivating. We wish Carole was our English professor!
The dealer's room was filled with stalls of comic books, action figures, drawings, posters, and anything else you'd want or expect to see at a comic book convention.  We really enjoyed that the focus was actually on comic books, as some conventions have a poor selection of vendors and focus on other aspects than comics. Towards the end of the day Saturday evening  John and Carole came into the dealer's room to shop for comics.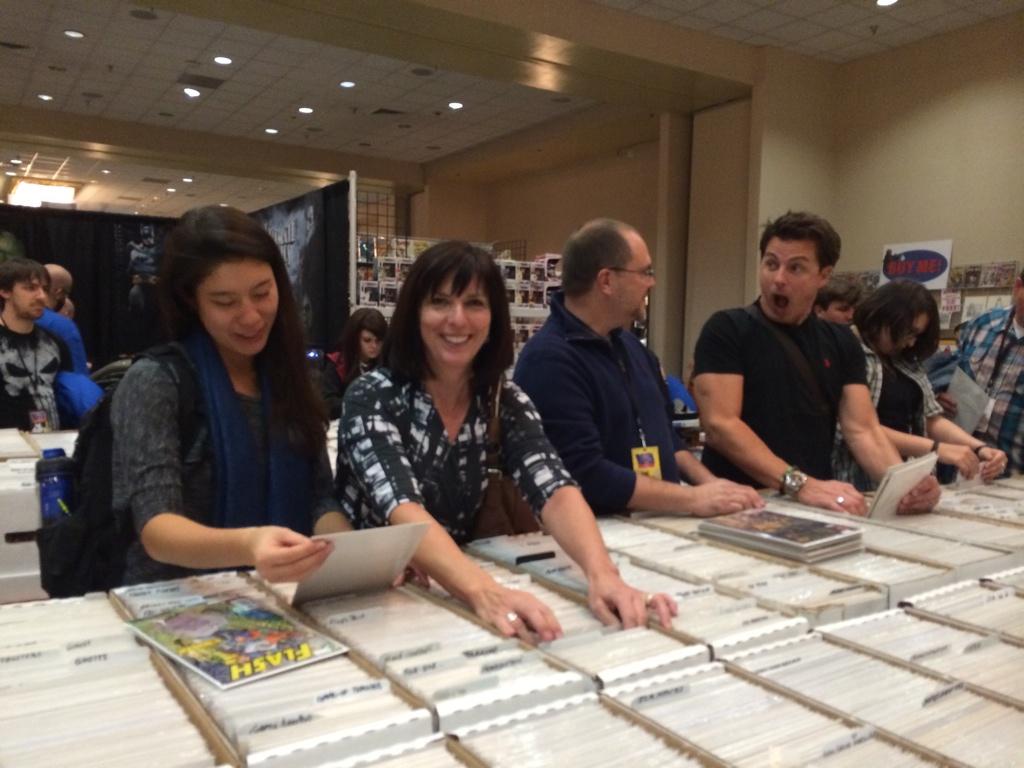 Carole and John shopping for Comic Books
Throughout the entire weekend, Artist's Alley was filled with amazingly talented people selling prints, hairbands, jewelry boxes, drawstring bags, exclusive comic books, and so much more.  We had the pleasure of meeting Chris McJunkin, a freelance illustrator who is currently working on Zero's Heroes for New Haven Comics.  He had some amazing pieces for sale, including some Doctor Who and Star Wars pieces.  We also had a chance to speak with Kelly Yates, an artist best known for his work on Doctor Who comics at IDW.  He told an awesome story about one particular piece he did featuring the Eleventh Doctor and Amy and Rory.  The goal of the piece was to combine all the Doctors in one image; BBC was concerned about doing so, but they loved his piece so much that they approved it the minute they saw it.  
One of the greatest things about being a part of this amazing community of fans is that giving back is a big part of who we are and what we do.  Throughout the weekend, we encountered many artists who were giving some of their proceeds to charities.  The 501st Legion had a raffle to raise money for the Make-a-Wish Foundation.  The grand prize included books, shirts, artwork, comics, action figures, and few other Star Wars trinkets.  Many vendors were donating a portion of their profits to charities of their choice, including one vendor who donated half of his proceeds to Wounded Warrior Project.  He had many tin signs, featuring some favorite comic book heroes.  
Comic conventions are one of the best places to see cosplayers, including many quality costumes. Throughout the entire weekend, we saw many Doctors, several Jack Harknesses, a bunch of Wonder Women, a baby Spider-Man, and Belle from Beauty and the Beast. We even saw the Tenth Doctor walking K-9!
The Doctor walking K-9!
Overall, NC Comicon was a terrific weekend!  As mentioned before, this was a comicon that truly focused on the comics, with a splash of television and film.  With a unique collection of venders, artists, guests, cosplayers, and visitors, it's no wonder that NC Comicon is one of the best in the state.  If you are ever given the opportunity to go, you will not be sorry.