Andrew Ladd as a Hurricane
Once again the Carolina Hurricanes had 3 games in 4 nights starting with the Winnipeg Jets flying in on Thursday and two old but familiar faces returning to Raleigh. Paul Maurice the 2 time Carolina coach returned with the 2004 top draft pick for the Carolina Hurricanes Andrew Ladd. The Jets saw 2 goals for assistant captain Blake Wheeler and an empty goal from Zach Bogosian. Carolina seemed flat the whole game and got a lone power-play goal from the Swedish Beast Elias Lindholm and another strong performance from Cam Ward. Ward stopped 34 of 36 shots faced and had a plethora of amazing saves; Cam Ward kept the Hurricanes within 1 for much of the game till the final minutes when he went to the bench for the extra attacker.
Saturday the Hurricanes had an early 1 PM game at TD Garden in Boston; where they face a Bruins team that was going to put up a fight after having horrible losses in their past 2 game. With Jay Harrison and Alex Semin out with injury;Cam Ward was net once again! The Hurricanes looked like they found their identity again, out shooting Boston greatly in the opening period. Hurricanes even scored first which has been hard for the team to do as of late but like everything else this season that didn't last long; Boston got two quick goals that they held for the rest of the afternoon. The only good things to come out of the Bruins game was that Juri Tlusty added to goal total on the season with 7 which is leading the team.
Quick flight back to Raleigh, the Hurricanes had a 5 PM meeting with San Jose Sharks. Upon arriving at the arena Sunday morning the Hurricanes found out they lost a very good friend Sgt. Mike Cathcart. Sgt. Cathcart lost his life in Afghanistan due to injuries sustained during combat on Friday November 14th. Sgt. Cathcart met the Hurricanes in early 2014 when the team went to Fort Bragg to practice and Sgt. Cathcart got to practice with the team and formed a tight bond with most of the players.
When the game began the Hurricanes faced Troy Grosenick a young kid from Brookfield, Wisconsin who was playing in his 1st NHL game and his family was in attendance. Once again like previous games the Hurricanes looked flat and got another unlucky bounce that ended in the back of the net and that was all that was needed. The Hurricanes posted 45 shots on the young goalie… yes 45 shots and none of them went through the first timer who looked to be a seasoned veteran. Grosenick had one memorable night that saw him break the record for most saves in an NHL debut that was previously held by Andre Gill who stopped 41 on December 23, 1967!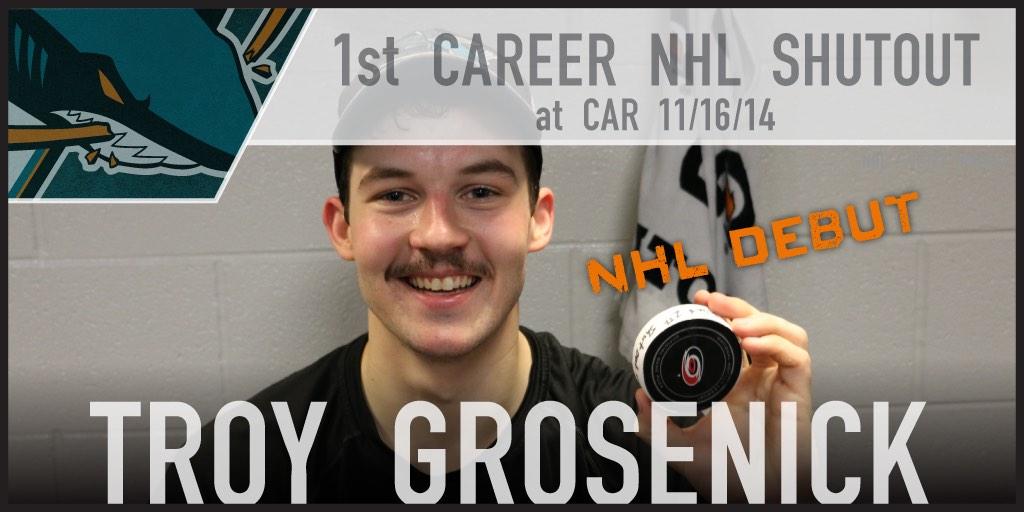 The Hurricanes go on a long road swing that sends them out west looking to stop this losing streak!! The Hurricanes return home on November 29th to conclude a Home & Home series with the Pittsburgh Penguins! This will mark the 1st return to Raleigh for
former Hurricanes General Manager Jim Rutherford